2017 Risk Training Workshops.
Sydney CBD:
If you want to attend more than one Risk Management training session with David Tattam then this is the perfect place. Just pick and choose from the training sessions available in the list on the right hand side.
To get more information about the agenda and topics of each workshop, click on the titles below:
Compliance Risk Management
5th June 2017
Bow Tie Analysis
6th June 2017
Enterprise Risk Management
14th - 15th August 2017
Risk Appetite
17th October 2017
Risk and Control Self-Assessment
18th October 2017

Key Risk Indicators
19th October 2017
Presenter: David Tattam.
Author of 'A Short Guide to Operational Risk', David Tattam is an internationally recognised specialist in all facets of risk management, particularly at the enterprise level.
His career includes many years working with PwC, as well as two international banks. His achievements include the creation of the Middle Office (Risk Management Department) for The Industrial Bank of Japan in Australia and the complete implementation of all Australian operations, systems, procedures and controls for Westdeutsche Landesbank (WestLB).

Receive a discount if you subscribe to a total of three or more training days in one transaction.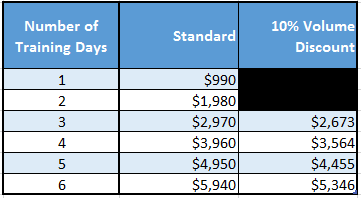 Note: If your organistion is a registered user of Protecht.ERM, Protecht.ALM or Protecht.CCRM then a further discount of 10% applies to the table above.
More Information about each course HERE.